In addition to the book collection, Dupré Library provides service areas, computer labs, a classroom, public areas and group and individual study spaces for users. It also features special collections ranging from U.S. Government publications to rare manuscripts.
Find floor maps, spaces, sound levels, and call numbers.
View Special Locations & Abbreviations for an explanation of areas found in the Dupré Library Catalog.
1st Floor
General Stacks Call Numbers: H, J, K, Z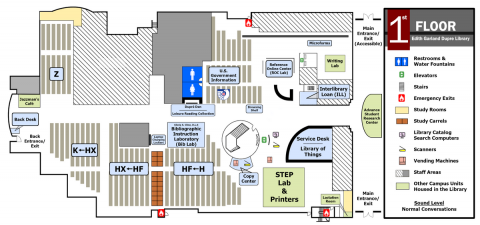 Sound Level: Normal Conversations
Main Entrance/Exit
Lactation Room
Rear Entrance/Exit
Staff Offices
2nd Floor
General Stacks Call Numbers: L, M, N, P, Q, R, S, T, U, V
3rd Floor
General Stacks Call Numbers: A, B, C, D, E, F, G