Jefferson Caffery Research Award
The Jefferson Caffery Research Award was established in 1967 by Ambassador and Mrs. Jefferson Caffery. Ambassador Caffery was born in Lafayette and attended SLII in its early years. His distinguished career in diplomacy is outstanding both in length of service and in the importance of the posts he held on every continent. The award recognizes outstanding scholarly research utilizing primary source materials held in the Special Collections areas of Edith Garland Dupré Library.
The winner of the annual Jefferson Caffery Research Award receives $500. The award is sponsored by Edith Garland Dupré Library and the University Library Committee.
Visit our Caffery Award: Call for Student Papers Guide for complete information.
Call for Student Papers 2022
Deadline for submissions of papers: To Be Announced
Winner will be announced: To Be Announced
2021 Award Winner
René Champagne has been named the winner of the 2021 Jefferson Caffery Research Award. His paper, "Cajuns, Creoles, and the Impact of Americanization on Ethnic Identity in Louisiana." examines the evolution of race and ethnicity as a result of factors such as assimilation, and the resulting impact on cultural identity. The almost two dozen sources Champagne relied on for his award-winning paper range from the Louisiana Office of Cultural Development and The New York Times, to the U.S. Census Bureau and the Journal of Anthropological Research.
René is a senior double majoring in French and Francophone studies and in anthropology.
UL Lafayette Office of Communications and Marketing has written a story about René's award-winning paper.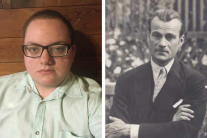 Photo Caption: René Champagne is the winner of this year's Jefferson Caffery Research Award. The prize's namesake is at right. (Photo at left courtesy of René Champagne. Photo at right is courtesy of Special Collections at UL Lafayette).
Contact
Special Collections
Edith Garland Dupré Library
400 E St Mary Blvd
Lafayette, LA 70503
Room 314
(337) 482-6031
speccoll@louisiana.edu