Your Federal Depository Library
Access
There are many ways to access government publications and information.
Find Online Resources Find Print and other Formats or Media
About the Depository
Edith Garland Dupré Library was congressionally designated a Federal Depository Library in 1938.
Circulation of most documents is allowed.
General and specialized reference, research, and instructional services are provided. Individual or group consultations and instructional sessions may be scheduled Instructional Services.
Locations of Government Publications in the Library
U.S. Government Documents Collection (1st Floor near the Reference Desk) – These publications have SuDoc call numbers
Main Stacks (Standard shelving on all floors) – These publications have Library of Congress (LC) call numbers
Reference & Research Department Collection – 1st Floor
Microforms – 1st Floor
Louisiana Room – 3rd Floor
Search online publications, databases, or federal websites via U.S. Government Information.
75th Anniversary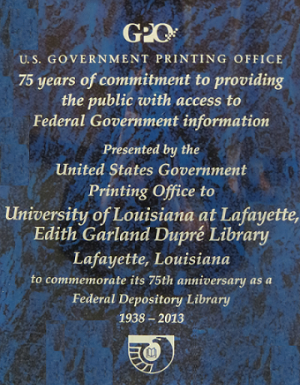 Edith Garland Dupré Library at the University of Louisiana at Lafayette celebrated the 75th anniversary of its Federal Depository Library during the fall 2013 semester. An open house was held on Nov. 14, 2013, which included exhibits and a slideshow presentation about current and historical Federal Depository Library resources and services at Dupré Library, the Federal Depository Library Program (FDLP) and the U.S. Government Printing Office (GPO). The anniversary was an opportunity to commemorate and acknowledge all at Dupré Library and the University who worked to ensure access to government publications and information throughout the years, in all departments and services. The anniversary was also an opportunity to promote the depository library to the University and the community and to encourage the exploration and use of depository services and resources.