Fun Fact Friday with Special Collections
Fri, 05/13/2022 - 9:56am
Today we are celebrating Jewish American Heritage Month.
Here in Acadiana, we have had an active Jewish community for over a century. Established in 1869, Temple Shalom is located in downtown Lafayette. In 1913, the Lafayette Sisterhood was founded and its members have been active in educational and humanitarian projects. They also held many fundraising events like raffles and bake sales.
Despite being a minority population in Lafayette, the Jewish community has had a lasting impact on the area. Names such as Heymann and Bendel are well known in Lafayette, but many may not realize they were active in their Jewish community as well. With the expansion of the Oil Center in the 1970s, the Jewish community in Lafayette saw a large increase. About the same time, a conservative group broke off and established a synogog on Kaliste Saloom, near Rue Louis XIV. They have since merged.
Today, the community is a bit smaller, but still just as active. Their mission statements states, "We welcome young and old members of Acadiana who practice Judaism, seek to explore Judaism, and/or are interfaith families seeking to honor and support the Jewish elements of their family identity."
This month, we urge you to learn more about our Jewish neighbors. More information on the Jewish community in Lafayette can be found at Temple Shalom and Special Collections' digital exhibit, Jewish Community in Lafayette.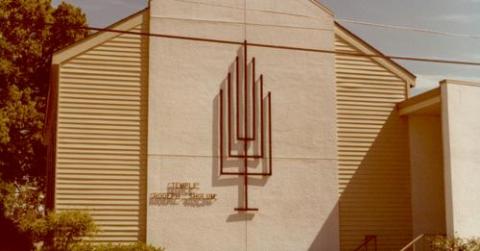 ---
Fun Fact Friday is brought to you by Special Collections.