You are here
News & Events
Top Stories
June 22nd, 2022
Enjoy these extra services and amenities at the library. Whiteboards & Dry Erase Kits Headsets with Mic...
Read More ➝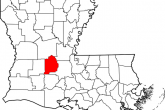 June 17th, 2022
Today we are going to celebrate the creation of Evangeline parish! On June 15, 1908, the Louisiana Legislature voted...
Read More ➝
June 16th, 2022
Thanks to those who attended Queering the Collection: LGBTQ+ Archives Lecture Series, Part 1. For those who missed it...
Read More ➝
View All News
Upcoming Events