Fun Fact Friday with Special Collections
Fri, 09/01/2023 - 12:15pm
Today we are highlighting Collection 184, the Bertrand, J. Rayburn Collection.
J. Rayburn Bertrand was born in 1918 in Kinder, Louisiana. He married Julie Burgin and they had one daughter. He attended Lafayette High School and University of Southwestern Louisiana (now University of Louisiana at Lafayette). Bertrand was a fighter pilot early in World War II, flying out of England with the 84th Fighter Squadron, 78th Fighter Group. For two years, he flew 88 combat missions, earning two Distinguished Flying Crosses and seven Air Medals. His group also was honored with the Presidential Unit Citation. He retired as a lieutenant colonel.
Bertrand was the fifteenth mayor of Lafayette, serving from 1960 to 1972. He led Lafayette through a period of unprecedented growth and the turbulent civil rights era. During his term as mayor, the city's population grew from about 40,000 to about 75,000, and the city expanded from 8.25 square miles to 24 square miles. 
Bertrand's accomplishments were appreciated in Lafayette and gained state recognition. He received two "Project Earth" awards for activities and programs which improved the environment, and the Mayor-of-the-Year citation for the state of Louisiana in 1962.
Attached are pictures of Bertrand and the city of Lafayette during his tenure as Mayor of Lafayette. Included are maps and photographs of Lafayette's first direct distance dialing by Southern Bell (at the time included the area code of 318, now 337).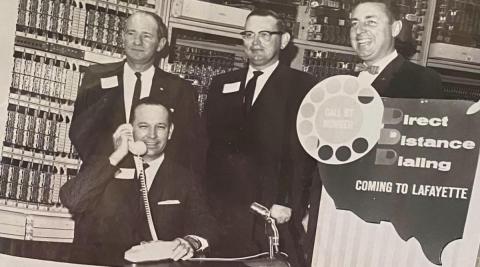 View more photos on the Special Collections Facebook Page.
---
We would also like to send a bitter-sweet farewell to Christopher Bienvenu for his dedication to Special Collections these past 3 years. We wish you nothing but the best in your future endeavors!
---
Fun Fact Friday is brought to you by Special Collections.