Fun Fact Friday with Special Collections
Thu, 05/11/2023 - 11:54am
This week, we are happy to announce the acquisition of another new collection, Collection 529, the Nehrbass Architecture Collection.
Neil Martin and Frederick J. Nehrbass were architects based in southwest Louisiana. They both designed many different buildings in Lafayette, the southwest Louisiana region, and New Orleans. Frederick Nehrbass worked around the 1920s through the 1960s, while Neil Nehrbass worked around the 1950s through the 1980s. The latter designed the Cajundome and the Chancery building in Lafayette, as well as taught at the University of Southwestern Louisiana (now the University of Louisiana at Lafayette).
This collection contains working files and original architectural drawings from both architects. Also included are correspondence, lectures, publicities, brochures, and photographs.
The grandchildren of Frederick Nehrbass—Kim Nehrbass, Heidi Nehrbass Alpha, Tanya Nehrbass Schulze, and Seth Nehrbass—donated the collection with assistance from UL Lafayette's School of Architecture and Design.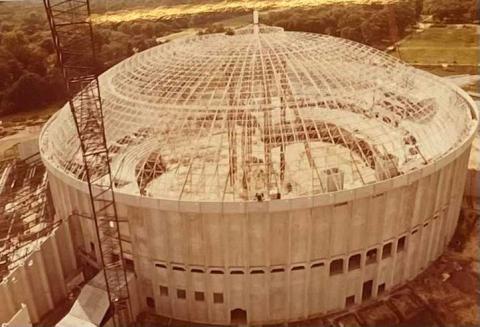 ---
Fun Fact Friday is brought to you by Special Collections.