New Research Data Repository: Inter-university Consortium for Political and Social Research (ICPSR)
Tue, 10/26/2021 - 11:43am
The library has a new research data repository available for research in the social and behavioral sciences.
Inter-university Consortium for Political and Social Research (ICPSR) is an international research data repository including specialized collections and educational activities.
The Picard Center has established membership that gives us access.
Create a MyData Account with your University email to access these advanced features:
Download data and use online analysis tools
Download data available only to ICPSR members
Generate utilization reports and download statistics
Update your account profile and settings
Access your past searches, downloads, and deposits (forthcoming)
Access Summer Program registration and history of courses taken (forthcoming)
More information about the ICPSR research data repository:
An international consortium of more than 750 academic institutions and research organizations, Inter-university Consortium for Political and Social Research (ICPSR) provides leadership and training in data access, curation, and methods of analysis for the social science research community.



ICPSR maintains a data archive of more than 250,000 files of research in the social and behavioral sciences. It hosts 21 specialized collections of data in education, aging, criminal justice, substance abuse, terrorism, and other fields.



ICPSR collaborates with a number of funders, including U.S. statistical agencies and foundations, to create thematic data collections and data stewardship and research projects.



ICPSR's educational activities include the Summer Program in Quantitative Methods of Social Research, a comprehensive curriculum of intensive courses in research design, statistics, data analysis, and social methodology. ICPSR also leads several initiatives that encourage use of data in teaching, particularly in undergraduate instruction.



ICPSR-sponsored research focuses on the emerging challenges of digital curation and data science. ICPSR leads or takes part in many policy initiatives and grant-funded activities that result in publications that address issues related to data stewardship. ICPSR researchers also examine substantive issues related to our collections, with an emphasis on historical demography and the environment.



ICPSR is a unit within the Institute for Social Research at the University of Michigan and maintains its office in Ann Arbor.
Quote and Photo Credit: ICPSR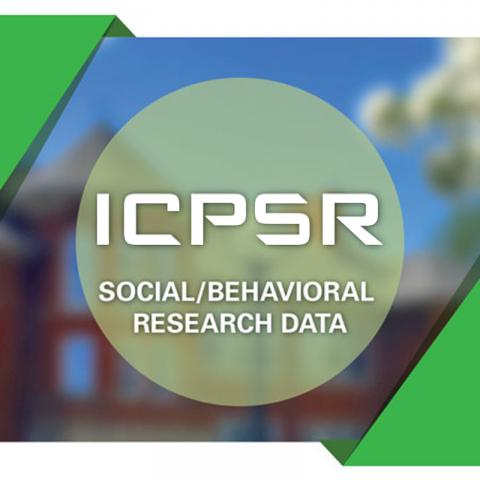 ---
Questions? Ask a Librarian.